12th Annual Global Implantology Week at NYU on March 21-24 | 2022
Zimmer Biomet Dental and NYU College of Dentistry invite you to join us for this four-day event co-sponsored by the world-renowned NYU College of Dentistry. Virtual program is scheduled on Mar. 21-24 | 2022 and will be available on-demand until April 24, 2022. See the invitation.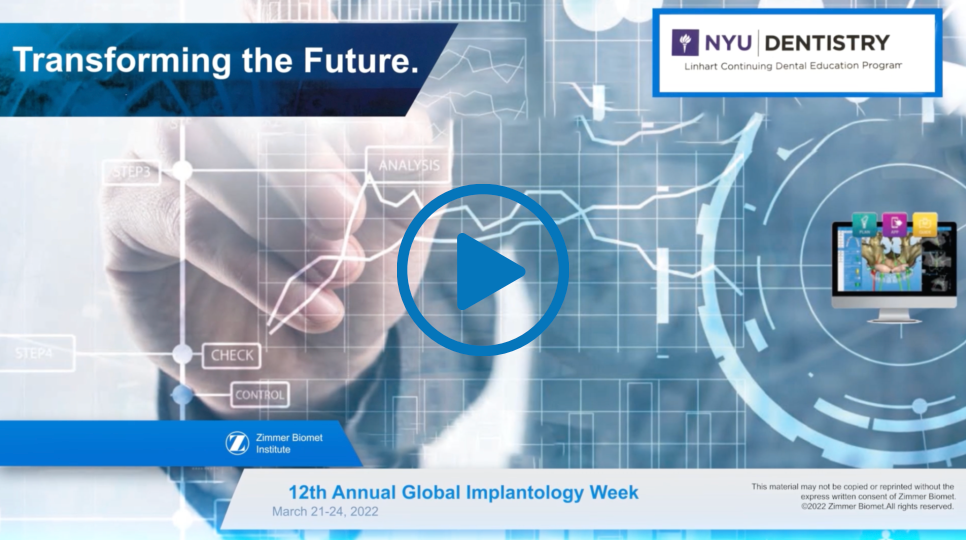 Presenter at the program:
Tiziano Testori, MD, DDS, FICD
Francesco Amato, DDS, MD, PhD
Devorah Schwartz-Arad, DMD, PhD
Dennis Tarnow, DDS
Cristian Peron, DDS
Georgios Romanos, DDS, PhD
Rodrigo Neiva, DDS, MS

Certification: 14 CE Credits/Lecture Hours - Participants will receive a Certificate of Completion from NYU College of Dentistry
Program for this year will cover the following topics: Leveraging Digital Technology to Solve Complex Cases with Minimally Invasive Approaches, Interdisciplinary Management of Compromised Cases, Treating High-Risk Patients with Proven Technology, and Contemporary Strategies for Managing Hard and Soft Tissues.
Tuition per attendee is $199 USD until Feb. 28th and $299 USD after Feb. 28th (Live Sessions + On-Demand Viewing) 
PDF brožury ke stažení:
Annual Global Implantology Week